This is a (long-ish) listing of previous programs supporting the digital humanities efforts of faculty and students.
FACULTY FELLOWSHIPS
The Digital Innovation Lab (DIL)/Institute for Arts and Humanities (IAH) Faculty Fellowship program was designed to identify and encourage UNC faculty interested in:
developing digital approaches as a significant dimension of their academic practice in the humanities;
putting into practice digital methods related to the arts and performance;
exploring how data and data studies are transforming intellectual work in the arts and humanities;
pursuing an interdisciplinary, collaborative digital humanities project arising from their research, pedagogy, or engaged scholarship that is likely to be of interest to users beyond the academy and which raises larger social, historical, literary, or artistic issues;
applying what they have learned as DIL/IAH Fellows to their graduate and/or undergraduate teaching and mentoring;
and reflecting upon and discussing with colleagues the implications of digital humanities for their own academic practice.
The DIL/IAH Faculty Fellowship experience was organized around a fellow-initiated idea, that had to be developed, planned, implemented, and launched as a digital humanities project by the end of the fellowship year. Fellows served overlapping terms in the Digital Innovation Lab and the Institute for the Arts and Humanities. In support of their projects, DIL/IAH Faculty Fellows received a release from regular teaching obligations in the fall semester of their fellowship year; up to $15,000 in project funds from the IAH to cover project costs and professional development activities during their fellowship year; and in-kind project management and technical development time from DIL staff, estimated at 5 hours per week from project manager for the full year and 5 hours per week from technical developer for approximately eight months. Two fellowships were awarded per year from 2013-2016.
---
2016
English & Comparative Literature
David J. Baker is the Peter G. Phialas Professor in the Department of English and Comparative Literature. After receiving his Ph.D. from The Johns Hopkins University in 1992, he taught at the University of Hawai͑i, Mānoa. In 2008, he joined the faculty at the UNC. He is the author of two books, Between Nations: Shakespeare, Spenser, Marvell, and the Question of Britain (Stanford University Press, 1997) and On Demand: Writing for the Market in Early Modern England (Stanford University Press, 2010). And he has co-edited a collection, British Identities and English Renaissance Literature (Cambridge University Press, 2002).
Baker is collaborating with Willy Maley of the University of Glasgow and Patricia Palmer of the King's College London to create a web application, MACMORRIS (Modeling Archives and Connections: a Map of Research into Renaissance Ireland in the Sixteenth and Seventeenth Centuries), to identify writers of early modern Ireland, map their geography, display their social networks, and provide biographies to further scholarship on Renaissance Ireland.
Art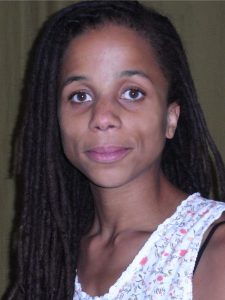 Jina Valentine is an Assistant Professor in the Art Department at UNC. She received her MFA from Stanford University and a BFA from Carnegie Mellon University. She has exhibited widely at venues including The Drawing Center, Marlborough Gallery, and the Studio Museum in Harlem (NY). She has been an artist in residence at The Skowhegan School of Painting and Sculpture (ME), Sculpture Space (NY), Santa Fe Art Institute (NM), and will be in residence at Project Row Houses (TX), the Frans Masereel Centrum (Brussels), and the Joan Mitchell Center (LA) next spring. She is currently a fellow of the Open Sessions program at the Drawing Center (NY) and is consulting curator for Elsewhere Museum's Southern Constellation Series residency (Greensboro).
Valentine grew her project, The Black Lunch Table, which she developed collaboratively with New York-based artist, Heather Hart. The project augments the dominant history of contemporary art with the testimonies of living, working, African American artists. During the fellowship, Valentine created an online archive of artists' testimony generated through Black Lunch Table-organized oral history recording events, as well as facilitate community meet-ups, Wikipedia edit-a-thons, and continued discourse among researchers, institutions, and publics.
---
2015
Geography
Gabriela Valdivia is an Associate Professor in the Department of Geography. Valdivia examines the political dimensions of natural resource governance in Latin America: how Latin American states, firms, and civil society appropriate and transform resources to meet their interests, and how capturing and putting resources to work transforms cultural and ecological communities. Using ethnographic and archival methods, her research has focused on resource governance in Ecuador and Bolivia, where state-led development, economic neoliberalization, and social movements fuel intense conflicts. She emphasizes environmental histories, power relations, and the co-production of humans and nonhumans to recognize that struggles over resources are simultaneously struggles over political life. At UNC, she has developed three main areas of research: (1) political ecology of oil in Ecuador, (2) agrarian transitions in Bolivia and (3) conservation and development in the Galápagos Islands.
Follow Gabriela's work, Crude entanglements: Living with oil in Ecuador on her project website.
---
2014
Romance Languages and Literatures (Spanish)
Lucia Binotti is Professor of Spanish in the Department of Romance Languages and Literatures. Binotti's research crosses the borders between literary criticism and cultural history. Her work focuses on Renaissance material and cultural history, and on the mechanisms that construct linguistic and cultural identity. How Do You Say It? is an interdisciplinary and community service oriented project aimed at assessing whether the choice of different varieties of Spanish targeted more specifically to a local sub-group of the larger Latino/a community might increase the success and effectiveness of textual literature (brochures, signs, advertisements) as well as spoken interactions (from support services, doctors, social workers, etc.) in preventing and educating about domestic violence.
As Binotti explains, "The project's results will have direct impact on the development of culturally appropriate interventions for this vulnerable population of survivors."
Follow Lucia's progress on her project blog.
Project Site: How Do You Say It?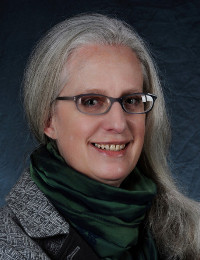 Music
Anne MacNeil is Associate Professor in the Department of Music. Her areas of specialization include music of the sixteenth and seventeenth centuries, music and spectacle, commedia dell'arte, opera, performance studies and historiography. Her project, POPP: Parsing Ottaviano Petrucci's Prints, aims to develop a digital program for working with sixteenth-century printed music that bypasses transcription entirely and thereby preserves the metric quality and independence of parts that characterize this music in its original sources. POPP is part of a larger digital humanities effort, IDEA: Isabella d'Este Archive, which offers new ways to explore the history and culture of early modern Europe through the lens of one of the most influential figures of the Italian Renaissance, Isabella d'Este (1474-1539). MacNeil was also recently awarded an ACLS Digital Innovation Fellowship for Mapping Secrets, another project connected to IDEA. Mapping Secrets will develop a tool for mapping networks of secretarial practices and administrative recordkeeping in the act of letter writing, using the notes, drafts, copies, and letters from the archive of Isabella d'Este. MacNeil begins this fellowship January 2015.
Follow Anne's progress on her project blog.
Project Site: coming online soon.
---
2013
Communication Studies
Renee Alexander Craft is an artist and critical ethnographer whose research focuses on cultural performances of black resistance in the Americas. An assistant professor in the Department of Communication Studies and the Curriculum in Global Studies, Craft received one of two inaugural DIL/IAH Faculty Fellowships in support of her digital humanities project, "The Portobelo Digital Oral History Project," a cultural preservation and collaborative research initiative focused on an Afro-Latin community located in the small coastal town of Portobelo, Panama, who call themselves and their performance tradition "Congo."
Follow Renee's progress on her project blog.
Project Site: Digital Portobelo: Art + Scholarship + Cultural Preservation
Computer Science
Tessa Joseph-Nicholas holds her PhD in English and Comparative Literature and her MFA in Creative Writing. She is a lecturer in the Department of Computer Science, where she also serves as director of Digital Arts and Humanities Projects. In 2012, Joseph-Nicholas received one of two inaugural DIL/IAH Faculty Fellowships in support of her digital humanities project, "Seeing Syllabi: Research, Reference, Inspiration," an effort to design and develop a suite of simple digital humanities-inspired tools that utilize text mining, data visualizations, and social tools to enhance the functionality of existing course and content management systems.
Follow Tessa's progress on her project blog.
Project Site: Seeing Syllabi
---
POSTDOCTORAL PROGRAM
Between 2013-14 and 2016-17 UNC hosted four two-year CDHI postdoctoral fellows. They devoted their time to developing their research and publication agenda through digital technologies in humanities scholarship, publishing, and community engagement; contributing to the advancement of the goals of the CDHI through collaborating on digital humanities projects; and developing and offering new undergraduate courses on topics relating to their own interests and working with UNC faculty to bring digital humanities into introductory undergraduate courses in humanities disciplines.
Past recipients included:
Julie Davis (2014 – 2016) 
Julie joined the Digital Innovation Lab in September 2014 as Project Director for the Loray Mill Project. While directing ongoing Digital Loray initiatives, Julie also is leading the creation of a history center at the repurposed Loray Mill. In collaboration with community members and cultural heritage organizations, she is developing exhibits and public programs to engage people with the history of the mill and the lives of those who worked there. She is now an associate professor of history at the College of St. Benedict and St. John's University in central Minnesota. 
Marten During (Spring 2014) 
Marten Düring is a cultural historian (PhD, University of Mainz, 2012) with a background in European history and Memory studies. His research focuses on trans-national memories of the Second World War, covert support networks during the Holocaust, and Dutch-German-Allied perceptions of the end of the war in the Dutch-German border region. He taught HIST 890-005: Digital History: Trends, Challenges and the Future of the Historical Method, while developing his own project, MERIT—Machine-based Extraction of Relations in Text. MERIT harnesses the power of computational linguistic tools and combines them with historical hermeneutics. He also contributed to the DIL's Slave Narrative Name/Place Database Project. He now is a researcher in the Digital European Integration Studies (DEIS) institute at the University of Luxembourg.
Ryan Horne (2015 – 2017)

Historian, researcher and developer Ryan Horne completed his Ph.D at Carolina in 2015, and worked as a postdoctoral fellow with the Carolina Digital Humanities Initiative from 2015 to 2017. He is now a Postdoctoral Fellow in the World History Center at the University of Pittsburgh. rmhorne.org
Ashley Reed (2014-2015)
Ashley Reed is now an assistant professor of English at Virginia Tech. While earning her PhD in English and Comparative Literature from the University of North Carolina at Chapel Hill, she was affiliated with the William and Ida Friday Center for Continuing Education, where she taught online digital humanities courses. Reed was also the long-time project manager for the William Blake Archive. Her dissertation examined the relationship between belief and agency in nineteenth-century literature by women and African Americans, including Catharine Maria Sedgwick, William Wells Brown, Susan Warner, Augusta Jane Evans, and Elizabeth Stoddard. More broadly, her interests include American literature and culture to 1900, American Studies, religion, gender studies, and digital humanities. As a Fellow in the Digital Innovation Lab, Reed contributed to our ongoing efforts to promote use of the digital NC Newspapers collection, a digitization collaboration between UNC Libraries, Newspapers.com, and the DIL.
Maria Saldana (2015 – 2016)
Maria Saldana is interested in the interface of the natural and artificial at the intersection of landscape, technology, and architecture. As a digital humanist, her work engages new media techniques of 3D visualization and mapping, with emphasis on epistemologies of modeling and the blending of documentary and creative practices for studying the historical built environment.
Whitney Trettien (2015)
Whitney Trettien joined the UNC English and Comparative Literature's faculty in July 2015 as a CDHI faculty hire. She studies the early modern period and works within the fields of book history, digital humanities, sound studies, and media studies. She is currently working on a digital book project, Cut/Copy/Paste: Echoes of Little Gidding, examining the cut-and-paste biblical harmonies made by the women of the Anglican community at Little Gidding in the 1630s and 1640s. Pairing an online collection of selected Harmonies with imaginative close readings of their material form and afterlives, this digital project illuminates a unique Caroline devotional aesthetic even as it listens for its echoes across sites as diverse as Harriet Bowdler's editorial work, T. S. Eliot's Four Quartets, the 1939 World's Fair, and digital remix culture. She has also recent co-founded thresholds, a digital journal for creative/critical scholarship. Professor Trettien has left UNC to take a position at the University of Pennsylvania.
---
GRADUATE RESEARCH PROGRAM
The CDHI Graduate Fellows Program was designed to
identify outstanding Ph.D. students across all fields engaged in humanistic inquiry and teaching who are interested in developing digital humanities as a significant expression of their professional practice;
support their interest through a one-year individually tailored program of professional development, skills training, digital humanities courses, and project-based learning; and
involve them in a continuing community of fellow digital humanists—faculty, post-doctoral fellows, and other graduate students.
The program was a response to the increasing recognition of the value of digital humanities training in the hiring of new faculty positions in humanities disciplines and in broadening career horizons within and outside the academy for those who combine these capacities with the highest level of academic preparation in their subject disciplines. The fellowship program was a component of the Carolina Digital Humanities Initiative, and was supported by the Andrew W. Mellon Foundation and the Graduate School of the University of North Carolina at Chapel Hill.
---
2016-2017 Fellows
Bradley Erickson
Bradley Erickson is a Ph.D. student in Religious Studies whose research focuses on the archaeology of classical Israel. Brad received a BA in Religious Studies and a BA in History from Centre College in Danville, KY and an M.Div. from Duke University. Brad has worked for six seasons on the Huqoq Archaeology Project where he currently serves as a square supervisor and as the excavation's technology coordinator.
Brad's dissertation research focuses on the relationship between cosmic art and the night sky in ancient synagogues. For his CDHI fellowship, Brad created a series of 3D, navigable visualizations of ancient synagogues with accurate mosaic textures produced through photogrammetry. In addition to his main project, Brad also produced a series of 360-degree photos of each synagogue and 3D printing ancient artifacts to help present his 3D visualizations. All 360-degree photos and navigable models are accessible through Brad's website.
Heather Suzanne Woods
Heather Suzanne Woods is a doctoral student in Communication who graduated with dual degrees in Political Science and Women's Studies from Kansas State University as well as earning a master's degree in Communication from Baylor University. Woods' current research project investigates how people use new media environments to organize and act together politically. In particular, she analyzes cultural phenomena at the intersection of embodiment and the technological in the form of hashtag publics such as #BlackLivesMatter and #YesAllWhiteWomen; the political use of artificial intelligence; and how predictive algorithms and platforms influence the way people engage in political discourse and action.
Heather used her CDHI fellowship year to support her work as Outreach and Assessment Coordinator for Project Vox, an online, open-access project working to acknowledge and integrate early modern women philosophers into Philosophy instruction and research. In the past, Heather has served as Co-Director of the NOW Retreat, an entirely online writing retreat for junior scholars and as Digital Media Coordinator of Feminism Here & Now, an interdisciplinary conference on the status of feminist theory and praxis hosted at the University of North Carolina at Chapel Hill.
---
2015-2016 Fellows
Cicek Beeby
Cicek Beeby is a PhD student in Classical Archaeology. She earned her BA in Archaeology and History of Art from Bilkent University (Ankara, Turkey). After receiving an MA in Classical Archaeology from the Florida State University (Tallahassee, FL), she worked as an archaeologist with the South Carolina Department of Parks, Recreation, and Tourism. She works primarily on Greece and Anatolia in the Iron Age, focusing on mortuary theory, human osteology, and site formation.
Beeby's dissertation research consists of creating a series of network models that reflect hypothetical kinship structures and how they may be gradually merged into a larger collective, as well as compiling burial data from a number of settlements, creating a spatial database, and analyzing the distribution patterns against the kinship models she has created.
Jami Powell
Jami Powell is a PhD student in Anthropology and a citizen of the Osage Nation. Powell graduated magna cum laude with her BA in Anthropology and Spanish from the University of Denver and her Masters in Anthropology from UNC with her thesis Osage Ribbon Work and the Expression of Osage Nationalism: Re-Imagining Approaches to Material Culture and Nationhood. She has served as both the Treasurer and Native Leadership Symposium Coordinator for the First Nations Graduate Circle and is a member of the Graduate and Professional Student Federation Diversity Summit and Workshop Planning Committee.
Her research engages with decolonizing methodologies through the digitization of museum objects and the collaborative development of a virtual museum exhibit on Osage art and material culture.
Angus Lyall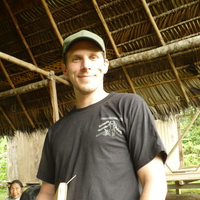 Angus Lyall is a PhD student in the Geography Department whose work as a political ecologist critically engages relations between society and nature, particularly with respect to conflict over natural resources in Latin America. Lyall received his BA in History from Columbia University and his MA in Anthropology from the Latin American Faculty of Social Sciences-Ecuador. He is a recipient of the NSF Research Experience for Graduates Fellowship for his dissertation project: Urbanizing the Amazon: Post-Neoliberal Development on the Ecuadorian Oil Frontier.
Lyall plans to ground his field research in participatory and spatial methodologies (social cartographies and participatory GIS) to map the shifting experiences of territory and resettlement of everyday life in Ecuador's 'Millennium Cities'.
---
2014-2015 Fellows
Ashley Peles 
Ashley Peles is a PhD student in Anthropology. She earned her BA in Anthropology and MA in Historical Archeology at the University of Massachusetts Boston. For her project, Peles brought the past to life by creating 3D models of excavation sites. Specifically, she worked to reconstruct the historic town of Natchez, Mississippi as it would have appeared during the early 18th century, when Natchez Indians and French colonists fought for the land. Peles hoped this visualization can serve the public as part of the National Park Service's 300th anniversary celebration of Fort Rosalie, a French fort built in Natchez territory.
Rae Yan 
Rae Yan is a PhD student in English. She earned a BA in English and Chinese Literature and Language from Wellesley College. During her time as a Fellow, Yan expanded a project she began working on in Digital Editing and Curation, a course co-taught by Daniel Anderson and Joseph Viscomi. Yan's project sought to map an ethnographic text, W.H. Sleeman's A Journey Through The Kingdom of Oude in 1849-1850, to show how this work was influenced and shaped by literary texts, such as Rudyard Kipling's The Jungle Book. Yan also undertook a project focused on Elizabeth Barrett Browning's lesser-known collection, Poems. Browning published four different editions of Poems, each time adding new works. Yan worked to create a digital version of Poems that served as a teaching tool and allowed scholars and students to explore the changes made across different editions.
---
2013-2014 Fellows
Jacob Hill
Jacob Hill is a PhD student and an Educating Librarians in the Middle East: Building Bridges for the 21st Century (ELIME-21) Doctoral Fellow in the School of Information and Library Science. His project focused on digitizing, encoding, and making available on the web several manuscripts of the Qayyum'al-Asma, an Arabic text central to the study of the Babi and Baha'i faiths. In addition to providing access to these rare manuscripts, his project planned to explore the use of linked open data as a way of creating critical editions of texts, using the Qayyum'al-Asma as a test case.
Mishio Yamanaka
Mishio Yamanaka is a PhD student in the Department of History. She planned to create a map of New Orleans tracing the development of racial segregation in the city from 1862 to 1900. In addition to its value as a teaching resource and a possible model for the study of race relations in urban America, the project contributed to research for her dissertation, "The Long Road to Plessy: The Racial Integration Movement of Creoles of Color in New Orleans, 1862-1900," which examined how Creoles of color challenged black and white dichotomous race relations in post-Civil War New Orleans.