The Digital Literacy Course Development Grants supported by the Carolina Digital Humanities Initiative promoted the creation of original course curricula in the arts and humanities. Each of the grantees integrated data studies into curriculum using digital tools to modify existing courses or as a part of a completely new course. The development and deployment of these courses improve digital skill sets at the level of professional research and undergraduate coursework simultaneously.
2018 Grantees
MAI NGUYEN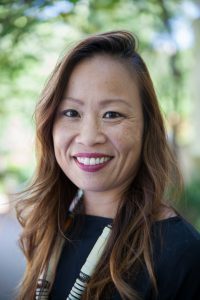 Department of City and Regional Planning
Dr. Nguyen updated her course to integrate digital activities into Housing and Community Development Planning and Policy (PLAN 769), which is geared toward Master's students specializing in Housing and Community Development and open to advanced undergraduates. 
Dr. Nguyen's course provides an overview of historic and contemporary housing and community development planning and policy issues by focusing on the city and county of St. Louis. Her students explored and reveal the spatial and governance patterns of the region and the people who live there as they produced dynamic, public-facing content and digital representations during the Fall 2018 semester using Esri Story Maps.   
2017 Grantees
HEIDI KIM
Department of English and Comparative Literature
Dr. Kim is working to develop big data studies on literary and oral history archives for undergraduate syllabi. She will create two projects with her students making use of UNC's collections and other archives.
A first-year seminar class and an upper-level course for non-majors collaborate with Densho, a Seattle-based non-profit firm that hosts the largest digital archive devoted to the interment of Japanese-Americans during World War II. Data mining techniques will be employed to seek the crucial narratives and ideas within the oral histories in the collection, comparing manual tagging of texts to automated term frequency counts.
A second project will track analyze climatological and environmental references within digitized texts in the Southern Historical Collection, demonstrating the use of survey methods to uncover knowledge about climate change and the application of those methods to other popular and scholarly texts.
These courses will grow to serve as a gateway for Dr. Kim and successive groups of students toward deeper digital humanities study, creating interactive portals from class project outputs that capitalize on categorical intersections within these archival texts to reveal new insights. This work aims to build digital skillsets for undergraduate students at various levels, as well as strengthen institutional partnerships within and beyond the University.
In her own words, Dr. Kim has described the impact of the grant citing it "has given me an opportunity to expand some of the intensive research projects I've been doing with my classes. This year, I decided to focus on digital publishing. Over the past few years, I've worked hard on refining the assignments and giving students a lot of intellectual control over the project. Unfortunately, the cost of that has sometimes been that the output, especially the online output, hasn't been as clean or user-friendly as I would like. Now that I have the opportunity to think more about the presentation of the work and to make that a feature of the class, I'm really hoping that the students' work—which is great—will get the online audience it deserves."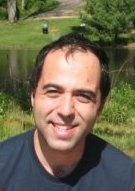 EREN TASAR
Department of History
Dr. Tasar is using the Digital Literacy Course Development Grant in order to improve his existing course, HIST 511: 9/11 in World History. As described by Tasar, "This course deals with the political dimensions of religion, nationalism, and class in the post-colonial Islamic world, with a focus on Central Asia, Egypt, Iran, and Turkey since World War II. Given the subject matter, the course features a focus on contemporary events… that is unusual for a history class." He has taught the course once before in the Fall of 2015, but even then saw the potential of introducing digital content and methodology. One of his key ideas to incorporate digital literacy is the development of a 9/11 online archive that includes students' explanations, analyses, and transcriptions of documents, diaries, periodicals, artwork, songs, and videos of plays, protests, speeches, and lectures. This archive would then be used in subsequent years of the course, creating a constantly evolving living artifact of the 9/11 era. Additionally, he hopes to incorporate an assignment focusing exclusively on aural and visual material, as well as the possibility of taking advantage of the Wikileaks collection. While Dr. Tasar has no formal training in the digital humanities, he is committed to moving the discipline of history in a technological direction by including technology and digital innovation into both his research and teaching.
Speaking about the course requirements, Dr. Tasar says, "the students are preparing an interactive resource called "Sights and Sounds of the 9/11 Era." The assignment consists of videos, photographs, and artwork designed to capture some aspect of daily life in the countries and time period examined in the class. Possible suggested themes include women's liberation, urbanization, factory workers, and protest artwork, though these are my ideas and I'm sure the students will be much more creative. Once the assignment is completed, it will be made available online and I will use it again when I teach the class again next year."
FLORA CASSEN
Department of History
Dr. Cassen's proposed course acknowledges the audience erosion of print news and other traditionally trustworthy information sources. The emergence of a new information environment where everyone is a content creator broadly undermines information credibility while dulling the critical filters of information consumers.
Historical Analysis for the Information Age will present undergraduate students to the evaluation skills needed to confront these phenomena. Case studies from historical events going back as far as the Blood Libel in the 12th century will build a context for misinformation efforts.
"The proposed course is geared towards undergraduate students at the beginning of their college careers, though it will be of interest to advanced undergraduate students as well. Its purpose is to give students the tools to critically evaluate information. Texts from different historical periods, newsreels and propaganda movies, and a variety of different websites will be examined and deconstructed. This course makes the tools and thought processes needed to critically evaluate evidence explicit, and requires students to actively learn and practice them."
Through a series of modules, students will learn to evaluate elements of a website systematically, to critique the internal logic of a website, to develop the habit of questioning the authenticity and accuracy of claims, and to judge when it is appropriate to take action to debunk websites. As they develop these skills they will also critically evaluate the impact hoaxes, rumors, or lies affect them as citizens.
2016 Grantees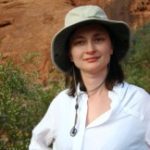 KATYA PERTSOVA
Department of Linguistics
Dr. Pertsova worked to develop Tools and Methods for Textual Data Analysis to teach undergraduates the basic computational and analytical tools for exploring and analyzing large collections of texts or other symbolic data.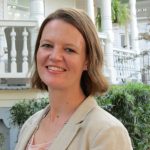 COURTNEY RIVARD
Department of English and Comparative Literature
Dr. Rivard developed the course "The Rhetoric of Data," an undergraduate course on Data and Rhetoric within the Composition, Rhetoric, and Digital Literacy minor.
JANE THRAILKILL and JORDYNN JACK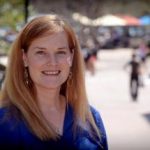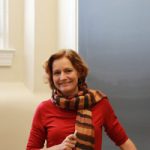 Department of English and Comparative Literature
Jack and Thrailkill worked to develop Health & Humanities: Intensive Research Practice, a research intensive course focused on Health Humanities, and interdisciplinary area of research that draws upon humanistic methods and concepts to study problems related to human health.