Graduate Recruitment Fellowships engage PhD and terminal MFA students with digital humanities opportunities early in their graduate careers. The Fellowships include two key components: 1) an opportunity to engage with hands-on activities in coordination with UNC digital humanities entities and 2) top-up funding to allow incoming students to focus on research and jump-start digital humanities projects.
We are currently making adjustments to this program as we pursue efforts to transform graduate education. If you have questions or want to discuss, please contact DIL Director, Daniel Anderson.
---
2018-2019 Fellows
Claire Kempa
Claire Kempa is a PhD student in American Studies. In Fall 2018 she supported a digital pedagogy project in an undergraduate course taught by Rachel Willis. More about her experience soon!
---
2017-2018 Fellows
In this particular iteration of the Graduate Recruitment Fellowship, the fellows created their own trading card decks to think about pedagogy. Each card game was different, and specific to the fellow's interests.
Matt Duncan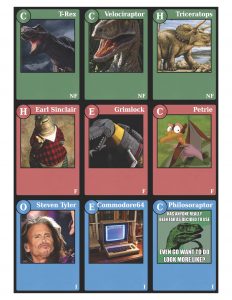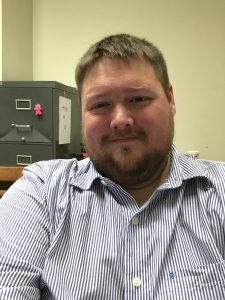 Matt Duncan is a PhD candidate in English and Comparative Literature and has spent much of his graduate career studying digital methodology. While the overall idea of using the cards in the classroom was within his niche, "designing and implementing the game involved skills and ideas outside [his] area of experience." Additionally, "this fellowship encouraged [him] to reconsider what [he] thought of as a digital project." Specifically Duncan wrote that, "Our involvement with the maker space and with printers for the cards made me aware of a larger network of devices and creative spaces that exist alongside the data we compiled for the project. It is a network both part of and beyond the web and software-based apparatuses often invoked in describing DH work, and any project involving digital methodology necessarily involves this ecology of approaches, ideas, and materials." Duncan created card based activities to support the teaching of composition.
Mira Markham
Mira Markham is a PhD candidate in History and was excited to have received this fellowship. It gave Markham "the opportunity to interact with other students outside [her] own department, and to identify how [their] different approaches and interests could complement each other." The successes of this project Markham identified  was being able to become familiar with the resources for digital humanities across the university and the idea of working on digital humanities projects in the future. In terms of the card game itself, Markham envisioned it as a great resource to be used in the classroom to help students that were having difficulty creating connections between concepts. The card game Markham developed detailed intellectual aspects associated with monuments.
John DeKemper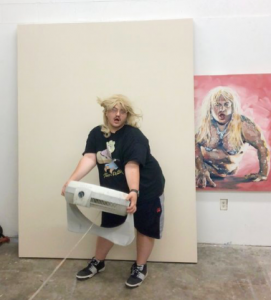 John DeKemper is a MFA candidate in Studio Art and was appreciative of the CDHI fellowship because of its interdisciplinary nature, saying it  "gave [him] a useful peek into the similar ways that other departments function by providing the space to talk about pedagogical goals, hurdles, and strategies." In particular the fellowship provided him the resources to explore "his own future teaching practice." Speaking about the decision to create a card game, DeKemper recognized that it took hours to come to the idea of a card game that could solve specific classroom problems that the three fellows saw. He also reflected that this process was much like a classroom setting such that, "the team all brought different skillsets and outcome goals to the table, yet we sought one common solution, like a syllabus to a diverse group of students" DeKemper's card activities centered around the teaching of color theory.
Example of the Cards
---
2016-2017 Fellows
Kimberly English
Kimberly English is a current MFA student, specializing in textiles. Check out English's blog on her CDHI Graduate Recruitment Fellowship experience, An Exploration of Textiles in the Digital Age.
Barbara Sostaita
Barbara Sostaita (bsostaita@unc.edu) is a PhD student in the Religious Studies department working within the "Religion in the Americas" track. For 2016-17, she is a Research Assistant at the Religious Studies Department, a CDHI Recruitment Fellow, and an Initiative for Minority Excellence Fellow.
Barbara holds a Master of Arts in Religion from Yale University and a Bachelor of Arts from Salem College. Barbara's research focuses on migrant faith practices and communities and her fieldwork is based primarily in the Mexico-U.S. borderlands. She is also the co-founder of Not So Ivory Tower, a popular online blog by and for women of color in academia. Barbara has a weekly column at Feministing, where she writes about immigration, social movements, and Latinx feminisms. You can read her work here.
Melissa Dollman
Melissa Dollman (msdollman@unc.edu)is pursuing her PhD in American Studies. For 2016-2017 she was a CDHI Recruitment Fellow embedded in Davis Library, a Graduate Fellow on the Community Histories Workshop team, and an Initiative for Minority Excellence Fellow.
Prior to UNC, she was a cataloguer, librarian, audiovisual archivist, consultant, intern, volunteer, adjunct faculty, exhibit developer, and researcher for a variety of commercial and public institutions (Pacific Film Archive, Women In Film Foundation, UCLA, Academy Film Archive, Discovery Communications, Schlesinger Library at Harvard University, Crawford Media Services, State Archives of North Carolina, and North Carolina State University).
Melissa's scholarly projects include "Show Your Work" where she employs video annotation tools to facilitate documentation of archival labor and citation of audiovisual primary materials in documentary works; and her dissertation topic explores distant and close analysis of a mid-20th century semi-fictional women's travel director for Shell Oil.