Here we have provided a range of platforms, plug-ins, readings, and other items that might be of use. Different projects are better suited to different sets of tools and related resources. Feel free to reach out to us with any questions!

---
Multi-use Toolkits
---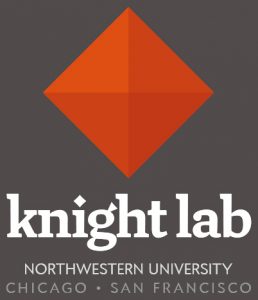 KnightLab Storytelling Toolbox
The Knight Lab at Northwestern University provides free tools for creating various forms of enriched multimedia presentations on the Web. The link above directs to a brief overview page for four of these tools (Timeline, StoryMap, Soundcite, and Juxtapose) with sample projects, quick start guides, and links to the tools themselves.
A free, open source authoring and publishing platform that's designed to make it easy for authors to write long-form, born-digital scholarship online. Scalar enables users to assemble media from multiple sources and juxtapose them with their own writing in a variety of ways, with minimal technical expertise required.
A project of the Roy Rosenzweig Center for History and New Media at George Mason University, Omeka is a free, flexible, and open source web-publishing platform for the display of library, museum, archives, and scholarly collections and exhibitions. Omeka's Showcase includes projects powered by Omeka. Triangle-based projects that put Omeka to work include the Khayrallah Program for Lebanese-American Studies and The State of History.
A suite of add-on tools for Omeka, Neatline allows scholars, students, and curators to tell stories with maps and timelines.
---
Collaboration Tools
---
A free, web-based project management application which helps you keep track of and organize tasks.
A free and open-source reference management software to manage bibliographic data and related research materials.
A suite of software and services designed for note-taking and archiving.
---
CMS/Web Publishing
---
A free and open source blogging tool and content management system, whose flexibility as a digital humanities tool stems from its extensive library of plugins. Prospect – our digital humanities toolkit – is built on the WordPress platform and its plugin-based architecture. UNC users may create their own WordPress projects at web.unc.edu (ONYEN login required).

An open source theme and plugin for the WordPress blogging engine that allows readers to comment paragraph by paragraph in the margins of a text.
Drupal is a free, open source software package that allows you to easily organize, manage and publish your content, with an endless variety of customization.
A guide geared specifically at humanists that details how to shape Drupal core and its community-developed "modules" into web environments that are highly customized for use in the humanities, but don't require code-writing expertise to develop or maintain.
---
Data Visualization
---
A free data visualization software. It allows users to connect to a spreadsheet or file and create interactive data visualizations for the web.
A web-based platform for the visualization of complex, multi-dimensional data.
A web-based text reading and analysis environment.
(Formerly Raw Density) A tool for creating vector-based visualization based on data
A collection of free, open-source web widgets, mostly for data visualizations.
---
Timeline Tools
---
Designed specifically for needs in the humanities and social sciences to represent time-based data. Chronos allows scholars and students to dynamically present historical data in a flexible online environment. Switching easily between vertical and horizontal orientations, researchers can quickly scan large number of events, highlight and filter events based on subject matter or tags, and recontextualize historical data.
A web-based timeline builder
A tool for creating timelines which can be added to a website or blog.
A free platform for generating and customizing views, such as interactive maps and timelines.
---
Mapping Tools
---
A client for using, creating and sharing ArcGIS maps online.
(A Blargh Labs project) A tool for creating customized Google maps from lists of addresses.
A cross-platform free and open source desktop geographic information systems (GIS) application that provides data viewing, editing, and analysis capabilities.
---
Network Analysis
---
Open-source software for visualizing and analyzing large networks graphs.
---
Text Resources for
Valuing/Evaluating DH Practices
---
Art History and its Publications in the Electronic Age
A report by Hilary Ballon (University Professor, Professor of Urban Studies and Architecture, NYU Wagner Graduate School of Public Service) and Mariët Westermann (Executive Vice President, Andrew W. Mellon Foundation, and former director/Paulette Goddard Professor, NYU Institute of Fine Arts).
Evaluating Digital Scholarship
By Todd Presner, Professor of Germanic Languages, Comparative Literature, and Jewish Studies at the University of California Los Angeles and Chair of the Faculty Steering Committee at the UCLA Center for Digital Humanities.
Profession – a journal from MLA – Evaluating Digital Scholarship
A series of articles appearing in Profession 2011, a publication of the Modern Language Association (MLA).
Guidelines for Evaluating Work in Digital Humanities and Digital Media
Also from the Modern Language Association (MLA).
An MLA-hosted space for materials sharing and networking for people working in the humanities
How Can a Digital Humanist Get Tenure?
A post by Cathy Davidson of Duke University over on HASTAC.
Journal of Digital Humanities, Fall 2012 (Vol. 1, No. 4) (PDF download)
A special issue featuring articles on the assessment and evaluation of DH work.
Our Capacious Caper: Exposing Print-Culture Bias in Departmental Tenure Documents
An article by Valerie Lee and Cynthia L. Selfe of Ohio State University.
Planned Obsolescence: Publishing, Technology, and the Future of the Academy
A book by Kathleen Fitzpatrick, Professor of Media Studies, Pomona College.
Promotion and Tenure Criteria for Assessing Digital Research in the Humanities
From the University of Nebraska-Lincoln.
Promotion and Tenure Guidelines for Work with Technology
From the Conference on College Composition and Communication.
Redefining Historical Scholarship
A 1993 report from the American Historical Association (AHA). Though the report does not deal directly with the digital humanities, it represents an effort to think more broadly about historical scholarship in ways that are very much related to current discussions about digital humanities practice.
Report of the MLA Task Force on Evaluating Scholarship for Tenure and Promotion
Related materials, such as survey findings and op-eds on the Task Force report, are available here.
Respecting the Meaning of Tenure
A post by Cathy Davidson of Duke University over on HASTAC.
Scholarship, Liberated from Paper at Last
An op-ed in the Chronicle of Higher Education by Randolph W. Hall, Vice President for Research, University of Southern California that describes USC's recently revamped promotion and tenure guidelines.
An open-access digital journal offering content multiple formats (scholarly articles, editorials, reviews, and interactive media) covering all aspects of digital media in the humanities. Published by the Alliance of Digital Humanities Organizations.
Tenure, Promotion and the Publicly Engaged Academic Historian
A report from the Working Group on Evaluating Public History Scholarship with representatives from the American Historical Association, National Council on Public History, and the Organization of American Historians.
---
Other sources
---
A registry of digital research tools for scholarly use. Developed by Project Bamboo, Bamboo DiRT makes it easy for digital humanists and others conducting digital research to find and compare resources ranging from content management systems to music OCR, statistical analysis packages to mindmapping software.