The CDHI Graduate Fellows Program was designed to
identify outstanding Ph.D. students across all fields engaged in humanistic inquiry and teaching who are interested in developing digital humanities as a significant expression of their professional practice;
support their interest through a one-year individually tailored program of professional development, skills training, digital humanities courses, and project-based learning; and
involve them in a continuing community of fellow digital humanists—faculty, post-doctoral fellows, and other graduate students.
The program was a response to the increasing recognition of the value of digital humanities training in the hiring of new faculty positions in humanities disciplines and in broadening career horizons within and outside the academy for those who combine these capacities with the highest level of academic preparation in their subject disciplines. The fellowship program was a component of the Carolina Digital Humanities Initiative, and was supported by the Andrew W. Mellon Foundation and the Graduate School of the University of North Carolina at Chapel Hill.
---
2016-2017 Fellows
Bradley Erickson
Bradley Erickson is a Ph.D. student in Religious Studies whose research focuses on the archaeology of classical Israel. Brad received a BA in Religious Studies and a BA in History from Centre College in Danville, KY and an M.Div. from Duke University. Brad has worked for six seasons on the Huqoq Archaeology Project where he currently serves as a square supervisor and as the excavation's technology coordinator.
Brad's dissertation research focuses on the relationship between cosmic art and the night sky in ancient synagogues. For his CDHI fellowship, Brad created a series of 3D, navigable visualizations of ancient synagogues with accurate mosaic textures produced through photogrammetry. In addition to his main project, Brad also produced a series of 360-degree photos of each synagogue and 3D printing ancient artifacts to help present his 3D visualizations. All 360-degree photos and navigable models are accessible through Brad's website.
Heather Suzanne Woods
Heather Suzanne Woods is a doctoral student in Communication who graduated with dual degrees in Political Science and Women's Studies from Kansas State University as well as earning a master's degree in Communication from Baylor University. Woods' current research project investigates how people use new media environments to organize and act together politically. In particular, she analyzes cultural phenomena at the intersection of embodiment and the technological in the form of hashtag publics such as #BlackLivesMatter and #YesAllWhiteWomen; the political use of artificial intelligence; and how predictive algorithms and platforms influence the way people engage in political discourse and action.
Heather used her CDHI fellowship year to support her work as Outreach and Assessment Coordinator for Project Vox, an online, open-access project working to acknowledge and integrate early modern women philosophers into Philosophy instruction and research. In the past, Heather has served as Co-Director of the NOW Retreat, an entirely online writing retreat for junior scholars and as Digital Media Coordinator of Feminism Here & Now, an interdisciplinary conference on the status of feminist theory and praxis hosted at the University of North Carolina at Chapel Hill.
---
2015-2016 Fellows
Cicek Beeby
Cicek Beeby is a PhD student in Classical Archaeology. She earned her BA in Archaeology and History of Art from Bilkent University (Ankara, Turkey). After receiving an MA in Classical Archaeology from the Florida State University (Tallahassee, FL), she worked as an archaeologist with the South Carolina Department of Parks, Recreation, and Tourism. She works primarily on Greece and Anatolia in the Iron Age, focusing on mortuary theory, human osteology, and site formation.
Beeby's dissertation research consists of creating a series of network models that reflect hypothetical kinship structures and how they may be gradually merged into a larger collective, as well as compiling burial data from a number of settlements, creating a spatial database, and analyzing the distribution patterns against the kinship models she has created.
Jami Powell
Jami Powell is a PhD student in Anthropology and a citizen of the Osage Nation. Powell graduated magna cum laude with her BA in Anthropology and Spanish from the University of Denver and her Masters in Anthropology from UNC with her thesis Osage Ribbon Work and the Expression of Osage Nationalism: Re-Imagining Approaches to Material Culture and Nationhood. She has served as both the Treasurer and Native Leadership Symposium Coordinator for the First Nations Graduate Circle and is a member of the Graduate and Professional Student Federation Diversity Summit and Workshop Planning Committee.
Her research engages with decolonizing methodologies through the digitization of museum objects and the collaborative development of a virtual museum exhibit on Osage art and material culture.
Angus Lyall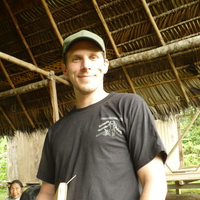 Angus Lyall is a PhD student in the Geography Department whose work as a political ecologist critically engages relations between society and nature, particularly with respect to conflict over natural resources in Latin America. Lyall received his BA in History from Columbia University and his MA in Anthropology from the Latin American Faculty of Social Sciences-Ecuador. He is a recipient of the NSF Research Experience for Graduates Fellowship for his dissertation project: Urbanizing the Amazon: Post-Neoliberal Development on the Ecuadorian Oil Frontier.
Lyall plans to ground his field research in participatory and spatial methodologies (social cartographies and participatory GIS) to map the shifting experiences of territory and resettlement of everyday life in Ecuador's 'Millennium Cities'.
---
2014-2015 Fellows
Ashley Peles 
Ashley Peles is a PhD student in Anthropology. She earned her BA in Anthropology and MA in Historical Archeology at the University of Massachusetts Boston. For her project, Peles brought the past to life by creating 3D models of excavation sites. Specifically, she worked to reconstruct the historic town of Natchez, Mississippi as it would have appeared during the early 18th century, when Natchez Indians and French colonists fought for the land. Peles hoped this visualization can serve the public as part of the National Park Service's 300th anniversary celebration of Fort Rosalie, a French fort built in Natchez territory.
Rae Yan 
Rae Yan is a PhD student in English. She earned a BA in English and Chinese Literature and Language from Wellesley College. During her time as a Fellow, Yan expanded a project she began working on in Digital Editing and Curation, a course co-taught by Daniel Anderson and Joseph Viscomi. Yan's project sought to map an ethnographic text, W.H. Sleeman's A Journey Through The Kingdom of Oude in 1849-1850, to show how this work was influenced and shaped by literary texts, such as Rudyard Kipling's The Jungle Book. Yan also undertook a project focused on Elizabeth Barrett Browning's lesser-known collection, Poems. Browning published four different editions of Poems, each time adding new works. Yan worked to create a digital version of Poems that served as a teaching tool and allowed scholars and students to explore the changes made across different editions.
---
2013-2014 Fellows
Jacob Hill
Jacob Hill is a PhD student and an Educating Librarians in the Middle East: Building Bridges for the 21st Century (ELIME-21) Doctoral Fellow in the School of Information and Library Science. His project focused on digitizing, encoding, and making available on the web several manuscripts of the Qayyum'al-Asma, an Arabic text central to the study of the Babi and Baha'i faiths. In addition to providing access to these rare manuscripts, his project planned to explore the use of linked open data as a way of creating critical editions of texts, using the Qayyum'al-Asma as a test case.
Mishio Yamanaka
Mishio Yamanaka is a PhD student in the Department of History. She planned to create a map of New Orleans tracing the development of racial segregation in the city from 1862 to 1900. In addition to its value as a teaching resource and a possible model for the study of race relations in urban America, the project contributed to research for her dissertation, "The Long Road to Plessy: The Racial Integration Movement of Creoles of Color in New Orleans, 1862-1900," which examined how Creoles of color challenged black and white dichotomous race relations in post-Civil War New Orleans.