Overview
In partnership with the Office of Arts and Sciences Information Services (OASIS), Information Technology Services (ITS), and the UNC Libraries, the DIL is developing a Digital Innovation Incubator. The incubator will both address sustainability challenges and drive innovation for humanities and arts projects at UNC-Chapel Hill. Coordinated by the Digital Innovation Lab (DIL), the program will provide support for projects that promote research through emerging digital methodologies. As we develop this program, we will focus on creating relationships, promoting risk-taking, grant facilitation, and curricular integration. 
---
Our first initiative will be the short-term facilitation of projects that feature curricular integration. Projects selected for one-semester incubation will be identify courses wishing to integrate digital innovations into their methodologies and projects. The focus on these activities will be on developing class and student projects to be completed during the semester of incubation. Each semester, the incubator Administration Board will select at least one project for one-semester incubation the following term.
The DIL is accepting proposals here for curricular incubation for spring 2018 until November 5 (call for proposals). 
The Digital Innovation Incubator is currently supporting the integration of digital activities into PLAN 739, Housing and Community Development Planning and Policy, a course geared toward Master's students specializing in Housing and Community Development.  Mai Nguyen, Associate Professor in the Department of City and Regional Planning, as the recipient of the Digital Humanities and Arts Curricular Incubation award, is guiding her students to share their research by building story maps with support from staff and Digital Pedagogy Fellows in the Digital Innovation Lab and library staff in the Davis Research Hub. Dr. Nguyen's course provides an overview of historic and contemporary housing and community development planning and policy issues by focusing on the city and county of St. Louis. Her students will explore and reveal the spatial and governance patterns of the region and the people who live there as they produce dynamic, public-facing content and digital representations during the Fall 2018 semester. 
The Digital Innovation Incubator also supports mid- to large- scale projects. Projects selected for two-year incubation will be provided support to help develop the successful submission of external funding requests, the completion of proof-of-concept prototypes, the completion of a version 1.0 release of the proposed project, the release of datasets associated with projects, and the storing and closure or transition toward sustainability of projects. A large aim of the incubator is to provide a two-year development experience for participants; the emphasis will be on learning, experimenting, and making connections during this period.  
The Digital Innovation Incubator is currently supporting UNC A to Z, a collaboration with UNC Press and authors Cecelia Moore and Nicholas Graham. UNC A to Z is companion to their book, and will be an interactive encyclopedia-style site that utilizes Prospect functionality to share  the story and traditions of UNC-Chapel Hill.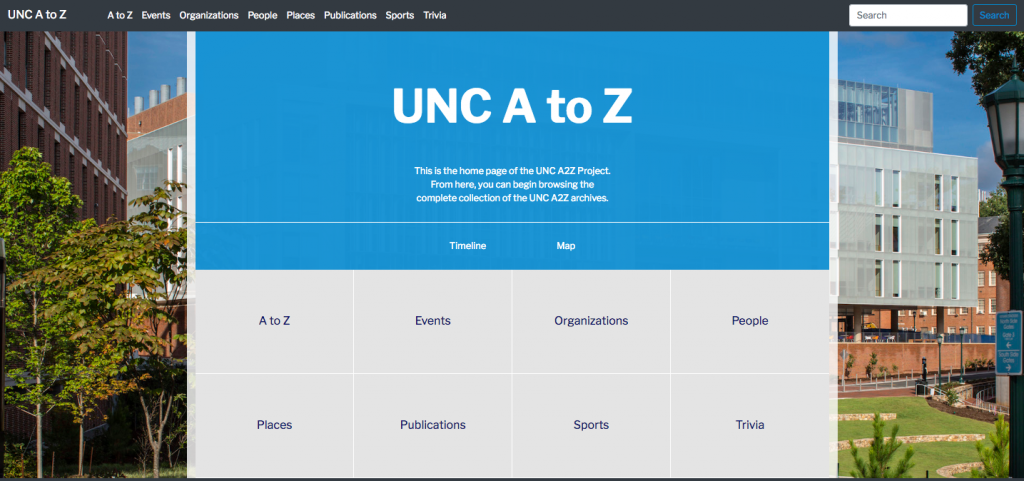 Did you know that UNC's school song was performed for the first time by the campus Glee Club at the graduation ceremony on June 2, 1897? This companion site is meant to be fun and educational, easy to navigate, and to give a thorough, data-driven view of the riveting history of UNC-Chapel Hill that will appeal to students, faculty, alums or even those just checking out the campus for the first time. In the current prototype built by DIL staff, you can just click on any specific location from a map, timeline, or tile view to learn more about it! This project collaboration began summer 2018 and will be incubated in the DIL through summer 2020.
Administrative Board
The Administrative Board will be made up of a core that includes the Director of the DIL and representatives from UNC Libraries, OASIS, and ITS. This group will also identify at least two at-large members from among the faculty who will serve three-year terms. Decisions regarding the selection of projects will be made by the Administrative Board. The Administrative Board will also assess and make adjustments to the incubator program as needed.
---