The proliferation of data is transforming knowledge and the world. We help UNC-Chapel Hill translate this data revolution into thoughtful research about what makes us human and what is happening to our culture. In addition to developing digital tools designed to help work through and learn from sets of data, the CDH and DIL provide a number of programs and initiatives to make UNC-Chapel Hill a leader in humanities and arts data studies.
Spotlight: Charlotte 1911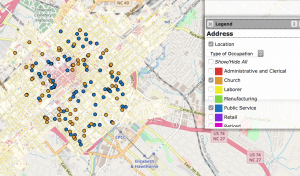 (Click through the image to see the full visualization.)
Using Prospect, our open-source software for data curation and visualization developed by the Digital Innovation Lab, Charlotte 1911 uses multiple sets of geographic data to illustrate the sorting of Charlotte, North Carolina by race and class into socially and racially homogeneous residential neighborhoods. A generation before, downtown blocks around Trade and Tryon Streets were home to both white and black businesses and residents. By 1911, city directory listings show, downtown dwellings had been replaced by commercial buildings. Most downtown businesses were operated by whites. Four thousand business and residential listings from the 1911 Charlotte City Directory have been entered into a relational database. Each listing has been assigned longitude and latitude coordinates so that it can be displayed on both historical maps and contemporary satellite/map views of Charlotte.